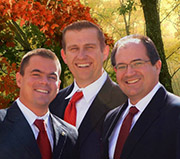 The Rich Sparks Team has over 50 combined years of professional experience in the construction, finance, and sales of residential and commercial properties. Richard has been named as one of the "Top 50 Realtors" in south eastern Michigan by Detroit Homes Magazine and Hour Magazine in multiple years.
Team leader, Richard Sparks, has a strong combination of hands on and formal training. Richard has a Bachelor's degree in Marketing from Eastern Michigan University and a Masters degree at Wayne State University. Richard is a Veteran of the United States Navy, SEABEES known for their construction skills and their "Can Do" attitude. Richard is certified by the National Association of Realtors as a "Senior Real Estate Specialist" and Associate Broker.
Richard's years of professional experience and training combined with his "Can Do" attitude gets his clients the best deal possible and will add you to his list of satisfied clients.